Md. Azhar Ali Miah
Former Executive Vice President at Bank Asia Ltd.
Mr. Azhar has more than 34 years of diversified experience in banking profession. He worked as the Executive Vice President, Bank Asia Limited, Corporate Office, Dhaka. He has retired from the services of the Bank in 2011. Prior to joining Bank Asia Limited, he worked at Agrani Bank in various capacities, particularly, as the Manager of Authorised Dealer (AD) Branches, Head of Foreign Exchange Department/Trade Finance Department of Corporate Branches, Dhaka and Assistant General Manager, International Division, Head Office, Dhaka. He attended different training courses/workshops on Documentary Credit Operation/International Trade at home and in abroad.
He has earned reputation as a successful trainer in the banking arena. As a trainer, he has been conducting training programs and workshops at Bdjobs Training, DCCI Business Institute (DBI), for long, in addition to Training Institutes of different Banks including BIBM on Trade Finance, UCPDC and Other Banking Subjects.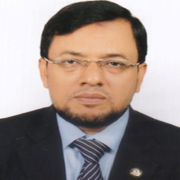 Md. Omar Faruk Khan, CDCS
Sr. Executive Vice President & Head of Branch at Islami Bank Bangladesh Ltd.